Ace of Hearts: love; home; a love letter
Ace of Spades (upright): trouble; legal trouble; sorrows; a courtroom
Ace of Spades (inverted): death or significant change (not necessarily death)
Ace of Clubs: good luck (wealth), esp.in business; good news
Ace of Diamonds: a letter
King of Hearts: a fair-haired man; your lover; a man you like/love
King of Spades: an evil man; an enemy; or simply, a judge
King of Clubs: an honest man; or, simply, a dark-haired man
King of Diamonds: an untrustworthy man, or, simply, a fair-haired man
Queen of Hearts: a loving and kindly woman; a fair-haired woman
Queen of Spades: a widow; (or) a malicious, deceitful woman
Queen of Clubs: a dark-haired woman; a friendly woman
Queen of Diamonds: a female gossip; or, simply, a very fair-haired woman
Jack of Hearts: a charming rogue; a bachelor; a boy
Jack of Spades: a trouble-making man, usually young
Jack of Clubs: a young, intelligent man
Jack of Diamonds: a false friend, or, simply, a fair-haired young man
10 of Hearts: success
10 of Clubs: good luck; material success
10 of Spades: trouble; sorrow; disappointment; legal trouble
10 of Diamonds: moving; changing residences
9 of Hearts: your wish fulfilled
9 of Hearts: inverted-your wish fulfilled, but not exactly as you'd have it
9 of Spades: misfortune, legal problems; news of a death or sorrow; possibly jail term
9 of Clubs: unexpected money; an inheritance
9 of Diamonds: a business venture; (or) a disappointment
8 of Hearts: the affection of a fair-haired person
8 of Spades: sorrow; argument; trouble; illness
8 of Clubs: the affection of a dark-haired person
8 of Diamonds: love; romance
7 of Clubs: friendship; someone who is fond of you
According to some fortune tellers, the lower numbered cards can represent times, length of waiting periods (example: 9 of Hearts followed by a 2 of any suit can mean your wish will be fulfilled in 2 days or 2 weeks, in 2 months, or on the 2nd of the following month.
Some interpret the three rows as your past, your present and your future.
The Ace of Spades inverted does not necessarily mean a death, but signifies change.
The Nine of Hearts is called "the Wish card" and if it is upright, your wish will be fulfilled.
The 7 of Diamonds may connote an invitation or offer made to you.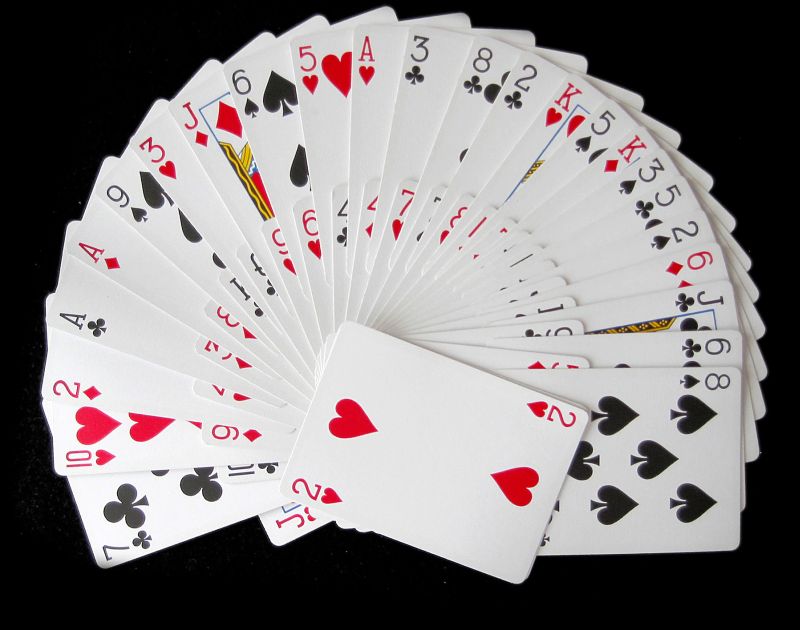 Two Queens together may indicate gossip.
A couple of a matched suit, such as a King of Hearts and a Queen of Hearts or a King of Clubs and a Queen of Clubs often represents a happily married couple.
Sometimes the 7 of Clubs represents children; a number card next to it indicates how many children.
For some fortune tellers, two Aces together can connote a forthcoming marriage.
Every fortune teller has their own method, and interpretations of the various cards vary according to how that seer has learned to interpret them.